Hotel Le Splendid in Dax: its history
The birth of a myth: the Grand Hotel Le Splendid in Dax, the emblem of art deco
This hotel from the 1930s has gone through the ages as part of the history of the city of Dax. Formerly a castle, the hotel Le Splendid occupied a dominant position in medieval times.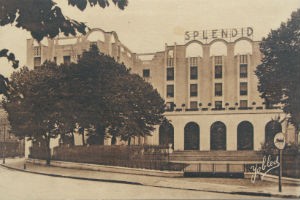 This magnificent building Art Deco style and emblematic place of "the Roaring Twenties", symbol of the cultural and artistic bubbling of the city of Dax, opened its doors to the most famous characters of this frenetic and creative period. Ernest Hemingway, Joseph Kessel, Sacha Guitry …
Its audacious architecture in the form of a flagship facing the banks of the Adour River, inspired by the mythical Normandy boat, is an invitation to escape and reverie. Its architect André Granet created an exceptional hotel sublimated by its Art Deco chic and sophisticated style, completely renovated. Its large hall and wide light staircase characteristic of this decorative movement, have kept its superb, leading to the spacious and comfortable rooms of this beautiful 4 star hotel in Dax. On the ground floor, the Art Deco style is very present, from the restaurant with its large reception room to the former smoking room.
The traditional cooking offers a savory mixture of dishes very tasty and generous. For a natural bracket, Le Splendid has a vegetated space where it is good to live.
The modern and innovative spa offers a soothing and relaxing afternoon after a day of exploring the city of Dax. The building is listed on the Inventory of Historical Monuments, and knew a complete renovation for a reopening in April 2018, to add a new chapter to its long history.
Take a trip back in time and discover, by clicking here, the interview of former rugby player Pierre Albaladejo, who grew up near the Splendid.