The Chef of the Splendid Grégory Chevalier shares his cooking secrets with us…
Local recipes cooked lightly
At the controls of the Splendid restaurant, chef Grégory Chevalier revisits the products of the local culinary heritage with one ambition: to make it light and accessible to all.
"I like the juices that simmer in the pan, but I also like a lighter, softer, olive oil-based cuisine."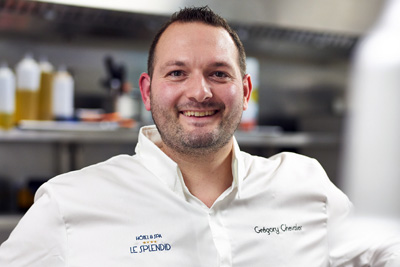 Originally from Périgueux, the young chef apprenticed with the Charbonnel brothers in Brantôme. Attracted by the French Riviera, he then spent about ten years in Cannes and Nice, where he discovered the vegetables and sunshine of local cuisine.
At 35 years old, the chef returns to his homeland to work in the Splendid: he offers a gourmet cuisine from the South-West, but at the same time lightened by his Mediterranean experience.
"The spa leads us to offer a more "healthy" cuisine based on raw and cooked vegetables. At the same time, the restaurant allows gourmet delicacies with dishes in sauce, roasted meats, a knob of butter… We are also looking for pleasure!"
Gregory Chevalier's bet? Make the pleasure of eating accessible and discover local and seasonal products, something to delight your taste buds!
Ducks, geese, pigs, trout, hake, squid… not to mention foie gras… are honoured in the exceptional setting of the Splendid. Several local producers provide the cuisine of this chef, who knows how to enhance classicism while adding a touch of modernity.
The Chef's recipes: to whet your appetite…
Appetizer 100% local
Steamed asparagus from Darrigade farm, soft-boiled egg from Etcheleku farm, dried rolled breast from Vallons farm, poultry juice and young spinach shoots.
A very tempting dish
Roasted pork hazelnut from the farm of Les Vallons, celery mousseline, candied potato palets, snacked sucrine, sherry vinegar juice and peanut crumble.
A dacquois dessert reinvented
A new "my way" of making a dacquois biscuit: creamy pistachio dacquois biscuit, fresh strawberries, crispy strawberry and old balsamic vinegar.