The Art of Living space of the Splendid Spa in Dax promotes harmony of body and mind
The Spa by Cinq Mondes of our hotel in Dax offers you an Art of Life space: sports and fitness rooms to take care of you, group classes to play sports and have fun, coaches at your disposal to offer you an adapted and tailor-made program.
A Zen space, to take care of your body gently
Our yoga courses
Yoga is a lifestyle philosophythat promotes harmony between body and mind. The practice of yoga, a word that means "union" – of the body, mind and soul -, is based on the work of postures – also called "asanas" – and breathing, which promotes concentration and meditation.
In a bright and comfortable room, our qualified teacher offers you group yoga sessions to take care of your body and mind in a warm and friendly atmosphere.
You can devote yourself to Vinyasa Yoga, a discipline that aims at harmony and synchronization of movements on the breath. Throughout the course, your teacher will teach you to perform a dynamic sequence of movements, initiated and harmonized by breathing, adapting to the level and needs of the group of students.
Discover the yoga sessions proposed by Florence… she shares all her secrets with us in her article, to be discovered here!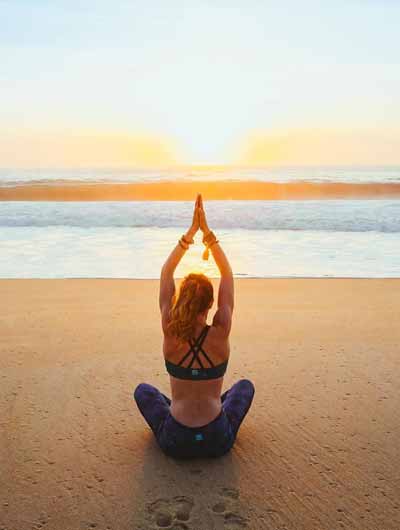 The schedules of our yoga classes
Tarifs
1 session of 60 minutes: 15€
1 package of 10 sessions: 130€
Reservation required at 05.58.35.35.20.14 or splendidspa@vacancesbleues.fr
Welcome well-being into your life: that of the body, but also that of the mind.
Our Qi gong courses
15€ per session on Thursdays at 5 pm
Qi Gong is a gentle and slow gymnastics inspired from Traditional Chinese Medicine. It means: "the work of energy through the body". It allows you to perform larger and larger movements, in order to improve the flexibility of muscles and articulations. The exercises are done very gently, while respecting everyone's abilities.
The practice of several sessions of this oriental discipline promotes a good mental and physical balance, which will help you in the management of daily life and stress.
A cardio-training area, to strengthen your body and stay in shape
Our spa in the centre of Dax has a fitness room equipped with various cardio-training equipment with free access for Aqua-Sensor course subscribers and hotel guests.
Open every day from 9:45 am to 7:45 pm, it has running mats, bicycles, rowers and air conditioning, to allow you to disconnect during a working day, or to return to your activities in top form after a holiday or a weekend spent in the Landes.
A private coach, for personalized support
1 session of 60 minutes – 50 €
Package 10 sessions – 510 €
Reprogram your body with personalized support based on muscular and cardiovascular endurance.
Our qualified teachers offer personalized and adapted courses for all levels. Each session is varied and balanced in order to adapt as well as possible to your present moment and your rhythm.
Let our coach help you, who will motivate and guide you throughout your program to help you assimilate the right postures and movements and make you evolve very quickly.
A health capital space, with innovative technologies at the service of your well-being
In our spa in Dax, we use the most innovative technologies on the market to offer you adapted treatments and services:
Dressed care, dry.
1 session – 30 min 35 € – Package of 10 sessions 315 €
Lie down, close your eyes… and enjoy this unique moment of relaxation. Thanks to the pulsed jets, this hydromassage bed offers you a personalized massage without contact with water, your muscles are softened and relaxed, your blood circulation stimulated and your metabolism activated.
1 session – About 3 min 40 € – Package 5 sessions 180 € – Package 10 sessions 350 €
Medical certificate required.
For 3 minutes, you are installed in a cabin and exposed to a temperature range from -110C° to -180C°. The temperature of your skin is significantly lowered (by about ten degrees). The body temperature remains stable: the body does not freeze because the air in the capsule is completely dry.
This technique promotes sports recovery, relieves pain, sleep disorders, and improves circulation and toxin elimination.
(On reservation only, depending on available slots).
1 session – 30 min 35 € – Package 10 sessions + balance sheets OFFERED 290 € – Package 20 sessions + balance sheets OFFERED 480
Vacufit is a technology that combines the unique combination of physical activity and vacuum to restore a slim and firm silhouette.
A 30-minute session is equivalent to 2 hours in a traditional sports hall.
Installed in a sealed box, you walk on a treadmill. The effort provided will be amplified by the vacuum phenomenon stimulating the metabolism and the blood and lymphatic circulation. The suction work naturally activates fat elimination and reduces cellulite and orange peel skin, while improving your physical condition.
The treatment is ideal as a 10 and 20 session cure.
Holistic consultations, for a better harmony between body and mind
Several experts and wellness practitioners are at your disposal and offer you consultations in osteopathy, sophrology, reflexology, naturopathy… to take care of your body and mind gently.
Our SPA will be closed from January 6th 2020 to January 12th 2020 included due to the mandatory yearly maintenance and will reopen on January 13th 2020.
Useful information:
Schedules
Reception: from 09h45 to 13h30 and from 14h30 to 20h00
Aqua-Sensory course: from 10:00 to 13:30 and from 14:30 to 19:45. Access to the aqua-sensory path is offered to the hotel's clients.
Cardio-training area with free access from 09h45 to 19h45
Access to half a day: any exit from the sensory aqua journey is permanent.
Contacts
+33 05 58 35 20 14
splendidspa@vacancesbleues.fr
Care and activities on reservation.
Please note that all Spa facilities are prohibited for children under 16 years of age.
All subscriptions are nominative, non-transferable.