The bars of the Splendid hotel welcome you for your moments of relaxation and conviviality
The Splendid hotel offers you 3 distinct bar atmospheres that evolve according to the seasons:
A bar area in the hotel's majestic hall, sublimated by its golden silhouettes and stylized glasses.
A bar area on the terrace with a view of the landscaped garden.
An art deco bar area in the old smoking room, inspired by a spirit of yesteryear and with a cosy atmosphere.
Sit comfortably in the bar of the Splendid hotel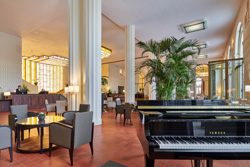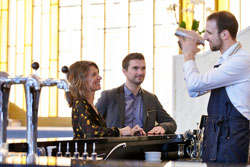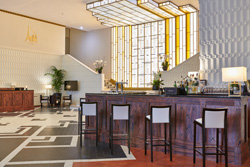 The bar located in the hall of the Splendid hotel is open every day from 7am to 11pm. It offers a quality menu adapted to the wishes of all our customers: spirits, festive cocktails or Detox cocktails, ideal to enhance your spa experience.
To enjoy the summer sun, you can sit on the terrace and enjoy the view of the landscaped garden and the Adour.
The smoking bar can be privatized for your personal and professional events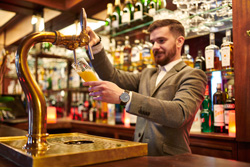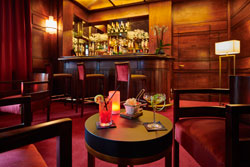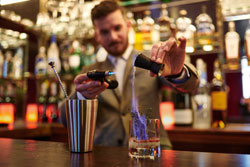 The smoking room of the Splendid at the time of the thirties, which saw personalities such as the writer Hemingway, the actor Mastroianni and the director Guitry wander around, has now become an intimate bar that can be booked for private events.
With its chic and cosy atmosphere, this bar area has preserved its original charm. Close your eyes for a moment and plunge into this fascinating universe…