New!
Access to the aqua-sensory path is offered and illimited for all hotel residents.
A complete sensory aqua journey, or the promise of sweet moments of pleasure
Let yourself be seduced by a unique experience….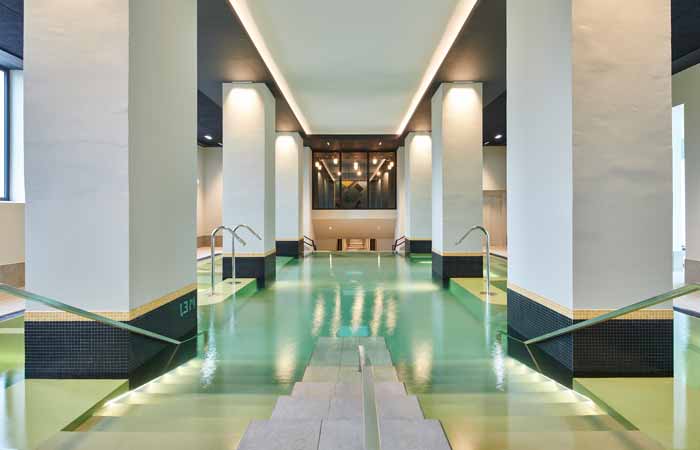 A timeless space, rich in varied experiences where warm and cold waters alternate, for your greatest pleasure: relaxation and relaxation are on the program.
Pause the stress of everyday life with our innovative equipment for total relaxation.
Welcome to the aqua-sensory space of our Spa, an Art Deco inspired place, a real invitation to travel with the senses and relax. In an intimate and refined setting, enjoy this break of pleasures for body and mind.
Its Large Thermal Water Pool equipped with massage jets, swan neck, bubble beds and jacuzzi, opens onto a course of Art des Eaux rich in varied experiences:
a hammam
a sauna
a caldarium
a flotarium
an ice fountain
experimental showers
a Kneipp course, a revitalizing "hot-cold" aquatic course
hot and cold benches
a relaxation room
Discover our rates and special offers
Access for 1 person (adults and children from 15 to 18 years old**): 25 €
Duo access: 45 €
SENSORY AQUA PASS
Access to the Aqua Sensory Course is free for any spa treatment except consultations.
As a member of the club, you have unlimited access to our Aqua-Sensory and cardio-training areas. You will benefit from exclusive offers and pricing advantages.
ANNUAL SUBSCRIPTION
2 treatments of 1h20 offered / 2 physical activity sessions offered / 6 Aqua-Sensory course invitations / 4 lunches offered*
Solo per person: 115 € per month
Duo per person: 95 € per month
SEMESTER SUBSCRIPTION
1 treatment of 1h20 free / 1 physical activity session free /2 Aqua-Sensory course invitations / 2 lunches free*
Solo per person: 130 € per month
Duo per person: 110 € per month
MONTHLY SUBSCRIPTION
Solo per person: 150 € per month
Duo per person: 130 € per month
YOUR MEMBER BENEFITS
– 10% on the shop (excluding offers and promotions).
– 15% discount on spa treatments (facials, body treatments, massages and rituals), excluding outpatient consultations and Art of Life treatments.
Invitations to animations and events during subscription and personalized offers.
– 15% on group lessons.
* 7 days/7 – public holidays – school holidays.
* Valid on the menu from Monday to Friday excluding drinks and public holidays.
Open to children from the hotel between 10h00 and 11h30 and between 16h00 and 17h30
*Under the supervision of an adult. Bath diaper and ID card required. Dedicated time slot: from 10:00 to 11:30 and from 16:00 to 17:30
**Under the supervision of an adult, ID card required.
Our SPA will be closed from January 6th 2020 to January 12th 2020 included due to the mandatory yearly maintenance and will reopen on January 13th 2020.
Useful information:
Schedules
Reception: from 09h45 to 13h30 and from 14h30 to 20h00
Aqua-Sensory course: from 10:00 to 13:30 and from 14:30 to 19:45. Access to the aqua-sensory path is offered to the hotel's clients.
Cardio-training area with free access from 09h45 to 19h45
Access to half a day: any exit from the sensory aqua journey is permanent.
Contacts
+33 05 58 35 20 14
splendidspa@vacancesbleues.fr
Care and activities on reservation.
Please note that all Spa facilities are prohibited for children under 16 years of age.
All subscriptions are nominative, non-transferable.