Enjoy a real moment of relaxation for two in our private suites
Enter the wellness bubble of our spa by Cinq Mondes and enjoy the perfect intimacy of our two private suites as a duo.
Whether it is during a romantic weekend or a stay combining relaxation and discovery, offer yourself a unique sensory break as a couple or between friends.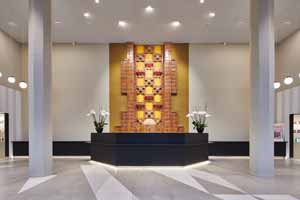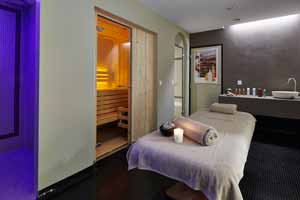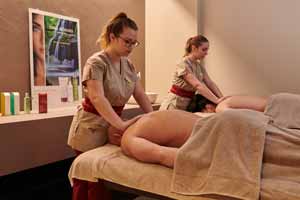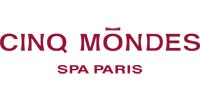 A timeless space, rich in varied experiences where warm and cold waters alternate for your greatest pleasure: relaxation and relaxation are on the agenda.
Care and comfort just for you
Our duo cabins are equipped with a private sauna and hammam: close your eyes, relax and let yourself be imported into a journey with exotic and enchanting scents…. A hydromassage bath and a sensory shower are also available in your private suite.
Enjoy our sumptuous and comfortable duo spaces for your wellness break for two.
110 minutes – 360€ for 2 people
Guided Sauna Ritual
Hydromassage bath
Aromatic scrub
Ayurvedic Indian toning massage OR Traditional relaxing oriental massage
110 minutes – 280€ for 2 people
A moment of relaxation to live in complete freedom in the sauna, hammam and shower experience in the cabin.
Followed by a 50-minute personalized massage.
Tasting offered!
Enjoy a free tasting of fruit juices, tea and a tray of delicacies with any purchase of a moment or treatment in the duo cabin.
Possibility to add additional treatments to the menu in addition.
Our SPA will be closed from January 6th 2020 to January 12th 2020 included due to the mandatory yearly maintenance and will reopen on January 13th 2020.
Useful information:
Schedules
Reception: from 09h45 to 13h30 and from 14h30 to 20h00
Aqua-Sensory course: from 10:00 to 13:30 and from 14:30 to 19:45. Access to the aqua-sensory path is offered to the hotel's clients.
Cardio-training area with free access from 09h45 to 19h45
Access to half a day: any exit from the sensory aqua journey is permanent.
Contacts
+33 05 58 35 20 14
splendidspa@vacancesbleues.fr
Care and activities on reservation.
Please note that all Spa facilities are prohibited for children under 16 years of age.
All subscriptions are nominative, non-transferable.